Working Student (m/f/d)
This position is no longer active
Either the position was filled, or the ad has expired.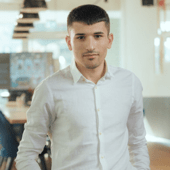 Contact
Daniel Martin
Digital Transformation Consultant – Strategy
What we look for in talent


You want to grow quickly in your career, preferably faster than your peers. You aim to develop and perfect top-level skills by learning from the best. Being part of something bigger is important to you as you, like us, believe that success comes from working together.

You enjoy solving complex problems as well as having fun with your colleagues and taking part in a great and inclusive culture. You have high expectations for the future and your workplace, and you deliver the energy, passion and capabilities to match those expectations.

You hold skills and knowledge in high esteem. You are naturally curious and keen to learn. You are proud of the skills you have acquired in your education, and can't wait to perfect and develop these skills over the next couple of years. You have confidence in yourself, yet are humble about the prospect of being surrounded by other talented and highly skilled professionals.

You are not necessarily neither an extrovert, nor a pushy go-getter, but you do not sit around and wait for things to happen. You put yourself forward enough to bring challenge and opportunity to you, and you are willing to drive your own growth towards your goals and dreams. You understand that you can't ask from others what you do not offer yourself
About Avaus

We are the leading marketing and sales transformation partner in the Nordics! We are 120 colleagues located at our offices in Helsinki, Stockholm, Munich, and Gdansk. We have several years of experience in data-driven marketing and sales across B2C & B2B industries.
Our vision is to become the leading actionable marketing data-asset provider in Europe by 2025.

We believe that to survive, companies will have to invest in capabilities related to intelligence & AI, customer experience orchestration and change management.

Our mission is to foster customer-centric organisations equipped to grow and face the future, our future growth will be heavily driven by applying smart data and analytics for our clients.​​​​​​​